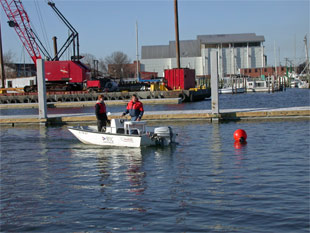 This one-day hands-on, on-the-water course is designed for those who will be using powerboats to perform safety and rescue functions, such as sailing instructors, coaches, regatta personnel, marine patrols, police and fire rescue personnel, and park rangers.
A prerequisite for this course is Safe Powerboat Handling Certification.
A US SAILING Small Powerboat Certification is available to students upon successful completion of this course and a passing grade on the written test. An additional fee of $50 applies.
Class Format:
Fridays 1:00-5:00 pm

Fri-Sat 1:00-5:00 pm Friday and
9:00 am to 5:00 pm Saturday

Sat-Sun 10:00 am - 4:00 pm each day
Class Size:
Minimum 4, Maximum 8 students
Prerequisite:
Ability to swim 50 yards.
Fees:
$125 per person

Certification: $50 - includes text, written and practical tests and certification sticker.