Community Boating Center selected as a 2018
Social

 Innovator!

We are excited to announce that Social Innovation Forum (SIF), a Boston-based connector and catalyst for social change, has selected Community Boating Center (CBC) for the 2018 cohort of the Social Innovator Accelerator. CBC is one of eight innovative, results-oriented nonprofit organizations in greater Boston that will receive access to more than $150,000 in cash and capacity-building services from SIF and its partners over the next 24 months. We were selected for this honor from a pool of 155 applicants for our unique approach to addressing education in New Bedford.
In 2013, CBC realized there was a tremendous opportunity to play a larger role in the community, particularly in the education process. That Fall, CBC launched its first Sailing into Knowledge program, based on REACH, US Sailing's STEM education program. Using sailing as a medium, REACH provides youth with hands-on integrated learning opportunities that inspire interest in fields of study like physics, marine biology, robotics, technology and more. REACH uses inquiry-based instructional approaches that places students at the helm of the learning process and assigning teachers the role of learning facilitator, coach and modeler. Sailing into Knowledge ties directly into CBC's most core value, that the kids come first and they are the focus of each and every activity.
In its first year of programming, CBC partnered with 4 greater New Bedford schools with one hundred twenty-six students participating in a 9-week session. Each student received 18-24 hours of instruction both in the classroom and on the water. Now, CBC runs Sailing into Knowledge as a full year program adding on a winter component called "Boats by Kids" where kids build boats and "Sailing Through School" where kids build remote control land sailors. Both programs have a heavy emphasis on math, engineering, creativity, and build upon team work skills. Enrollment has expanded to roughly 2,000 students and we now partner with over 20 schools and organizations, including New Bedford Public Schools Sea Lab program.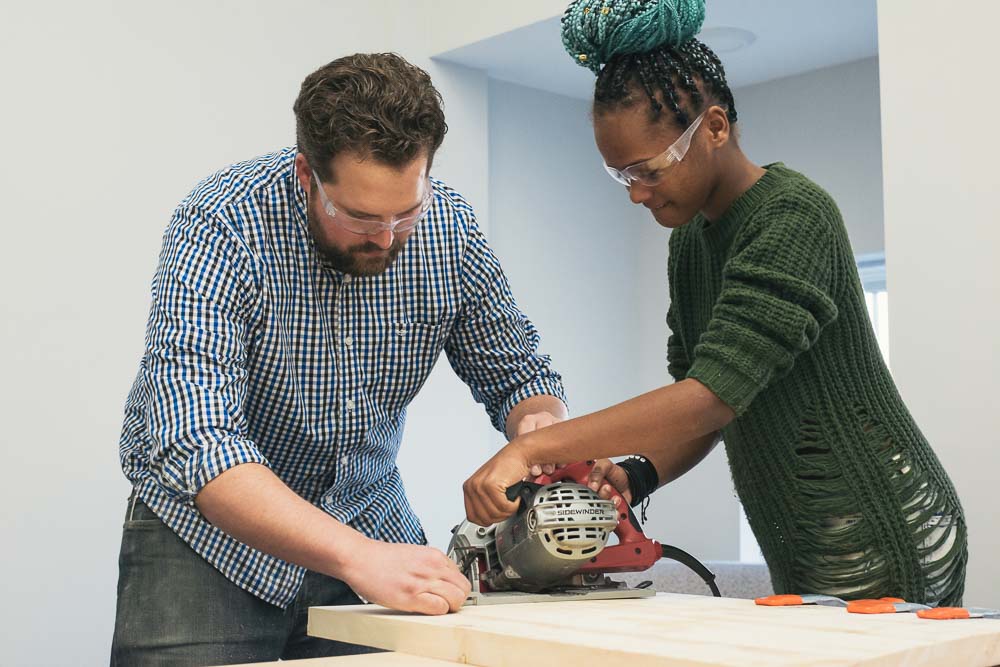 Our first major milestone as a Social Innovator is to present at Social Innovator Showcase, which will take place at the MIT Media Lab on Monday, May 14, 2017 from 5:30 to 9:00 pm.
The eight 2018 Social Innovators are:
ACT Lawrence
Establishing Financial Education as a Building Block for Success
Track Partner: MassMutual FoundationCommunity Boating Center
Advancing Education in New Bedford
Track Partner: Schrafft Charitable TrustFathers' Uplift
Anything Goes: Innovative, Effective, And Sustainable Approaches to Our Region's Toughest Social Issues
Track Partner: Boston Open Impact
GreenRoots Inc.
Improving Access to Healthy Living
Track Partner: Blue Cross Blue Shield of Massachusetts
PAIR Project – Political Asylum / Immigration Representation Project
Promoting Successful Advancement and Integration For Immigrants, Refugees, and Asylum-Seekers
Track Partner: Immigrant and Refugee Funder Collaborative (Ansara Family Foundation, Barr Foundation, The Clowes Fund, The Hyams Foundation, Landry Family Foundation, Macomber Family Fund, Suhrbier Family Fund, John H. and Naomi Tomfohrde Foundation)
Partners for Youth with Disabilities
Supporting Accessibility and Opportunities for Young People with Disabilities
Track Partner: Liberty Mutual Insurance
The Renew Collaborative
Addressing Homelessness in Massachusetts
Track Partner: Highland Street Foundation
Strategies for Youth
Breaking the Cycle of Incarceration
Track Partner: Stifler Family Foundation